Description
With its upgraded LFP battery chemistry, DELTA 2 Max has a lifespan of 3000 complete cycles until it reduces to 80% capacity. You'll get pretty much 10 years of power, even if you use it every day. That's 6× longer than other power stations with a similar capacity and output.
Expandable capacity – 2-6kWh expandable capacity to fit your energy storage needs. Add up to two DELTA 2 Max Smart Extra Batteries to hit a capacity of 6144Wh. Ideal for home backup, RVing, outdoors or even everyday use.
Built to last 6× longer – Get 10 years of daily use until hitting 80% of its original capacity. That's down to its LFP battery chemistry giving you 3000+ cycles.
Huge AC output – With X-Boost mode get up to 3400W output power to run 99% of home appliances. Power 15 devices at once including 6 AC outlets.
Fastest recharging – World's fastest AC recharging and X-Stream dual AC+Solar charging speeds. Up to 1000W solar input to charge in as fast as 2.3 hours.
Capture more energy – 99% MPPT efficiency maximizes solar generation anytime.
Customized in-app energy management – Prioritize solar or AC charging, view input and output power, battery levels and more.
5-Year warranty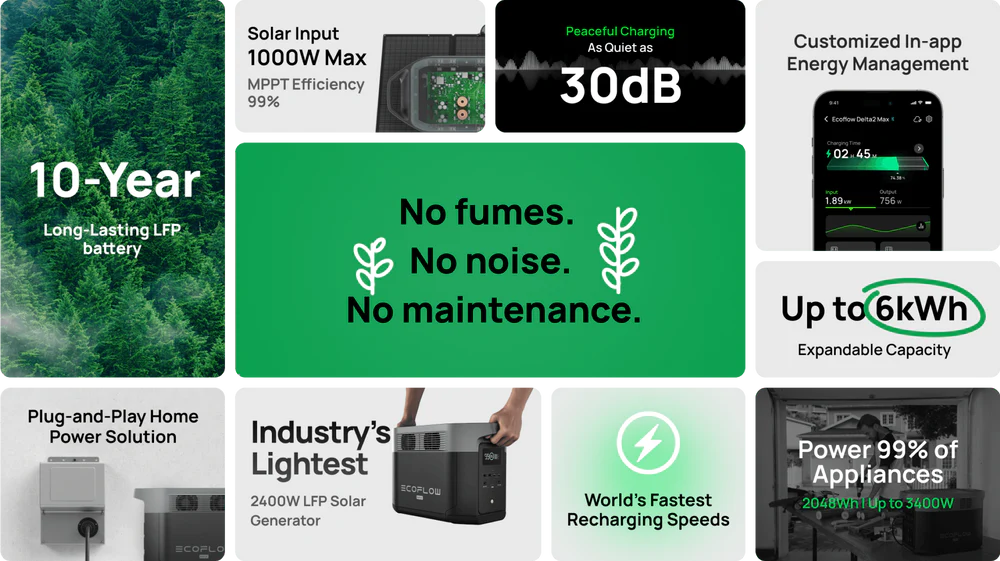 Advanced BMS Protection
A built-in battery management system regulates vitals, including voltage, current, and temperature, keeping DELTA 2 Max safe, secure, and built to stand the test of time.
Protective Layers Inside and Out
With LFP cells, DELTA 2 Max is safe, durable, and highly efficient.
A rubber anti-slip base and a highly-rated UL94-5VA fire-resistant casing offer multiple layers of protection.
Run 99% of Appliances with X-Boost
Power pretty much anything with up to 3400W Output
DELTA Max powers almost all the devices you need with a large 2400W AC output. With X-Boost proprietary technology, run appliances with an output of up to 3400W. Compared with similar portable power stations, DELTA 2 Max can power more devices while also preventing overloading and overheating.

Power for the entire family
2048Wh Capacity. A generous 2048Wh capacity makes DELTA 2 Max ideal for home backup, running your essentials for hours. Using your transfer switch, or plugged in directly, keep your fridge on and stop food from spoiling for up to 14 hours. With its lightweight design, DELTA 2 Max is portable enough to grab and go on the next camping trip.
Experience the world's fastest 43 minute recharge
Fuel Up 80% in Only 43 Mins*
With DELTA 2 Max's upgraded tech, combine up to 1000W solar input with AC for world-leading charging speeds. In only 43 min get an 80% charge. Or stick with AC for an 80% charge in a speedy 1.1 hour.
*When combined solar and AC input is 2400W.